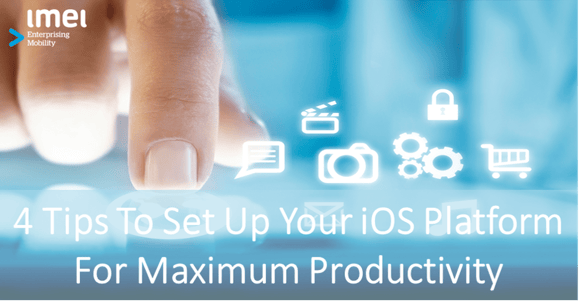 Creating a mobile workforce equipped with a comprehensive suite of software and tools is no doubt a fundamental component of boosting enterprise productivity. With the right Enterprise Mobility Management (EMM) instance, businesses are taking mobile technology from pen and paper replacements to truly transformational tools for a maximised productivity environment. Here are 4 ways to optimise your end user experience and ultimately get the most out of your mobility strategy.
1. Employ Content Sharing and Collaboration Platforms
Equipping end users with content sharing and collaboration platforms has long been a desired feature for companies looking to utilise cloud based storage. Where unmanaged apps with consumer grade features fall short, MDM product suite solutions like Airwatch's 'Content Locker' can provide simple content distribution and collaboration experiences while ensuring premium enterprise grade security measures.
Allowing end users the tools of content sharing with features including PDF annotation and real-time content inventory dashboard whilst alleviating the worry of manual data loss prevention instructions is going to allow maximum productivity in any mobile strategy.
2.

Organise your Enterprise App Suite for a Simple Interface
Simple! Right? Too often do I see iOS devices with 15+ pages of apps ranging from Facebook to Enterprise enrolled security apps like Zimperium, leaving end users thinking "Wait..where did I put that app again?"
Help your end users with a simple, streamlined folder setup. With the Airwatch administrators portal, admins can control the home screen layout rolled out to end users to ensure a unified enterprise app suite experience. Having an organised approach to providing apps to end users is going to give easy and quick access to end users and boosting productivity.
3.

Further Customise your iOS Platform with Home Screen Links
Include Home Screen Links for frequently visited company websites to further increase the tools available to your end users. Influential articles, Web-based demonstrations and important Web-based information available at the press of a button can be the light but important touch to add to your MDM instance for complete productivity.
4. Adopt Location Based Mobile Policies
As an advanced but incredibly powerful approach to mobility management, location based mobile policies could be the most impactful MDM policy to focus end users on work. With Mobileiron access, administrators are able to set contextual location based policies to extend security measures and boost productivity.
Setting geographic boundaries for mobile device features for productivity improvement such as disabling automatic screen lock so users don't have to repeatedly lock at work, disable apps and browsers like iTunes to remove distraction in the workplace. The applications of this technology are ground breaking.
What You Can Do
When executed correctly, mobility management strategies can be leveraged to promote the maximised productivity of the growing mobile work force. Does your company have a secure and scaleable approach to mobility? Does your MDM instance cater to your organisations mobility needs? If you're struggling to find the time, resources or expertise to optimise your mobile technology, a Managed Mobility Service Provider can help you bring it together. They'll work with you to plan and implement a workforce productivity strategy and make sure your mobile devices are set up to maximise productivity now and in the future.
Over to You
Do you have questions about optimsing the productivity of your organisation's workforce? We'd love to hear from you!