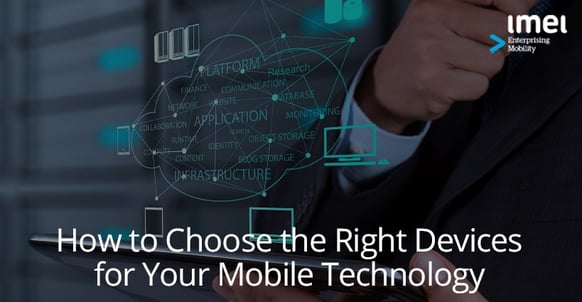 Enterprise mobility is a crucial part of any successful business, which is why choosing the right device is so important.
When you get it right, you'll maximise your team's efficiency and productivity – but get it wrong, and you'll end up with frustrated users, higher costs and missed opportunities.
These days, there are a multitude of mobile technology options. Finding the device that best matches your needs is hard, but a solid understanding of what's available, combined with a clear idea of your wants, needs and must haves, will help you make an informed decision.
The Right Type of Device
To reduce complexity, there are three main categories you should consider when it comes to mobile devices: smartphones, tablets and 2in1 laptops / tablets. If you have staff who are working outside the office, a smartphone not only helps them stay in touch, it also enables them to be productive while on the move. With a smartphone, it's easy to keep on top of emails, access company data and stock levels, and search the internet from wherever you're working. In fact, increasingly powerful hardware and the ever-growing range of mobile apps means your staff can now do just about everything they'd do on their desktop while in the office, on their smartphone while on the road.
Tablets have also evolved, and can replace a bulky laptop for certain types of workers. They're more transportable than a laptop and their size and touch screen makes them more enjoyable to use. When you opt for built-in cellular connectivity, you can access the internet at any time, plus, most tablets will last for at least 10 hours without a power connection.
2in1 laptops / tablets give true laptop power to the mobile user. Roles that require extensive use of spreadsheets or analytics and creative roles, where the use of a mouse is a necessessity, suit this category. The touch screen of a tablet does not allow them to manipulate large data sources quickly or give the mouse pointer accuracy required in creative design applications. This category should also be of interest if you want to rationalise your hardware and/or you are looking to reduce telecoms costs that you can reallocate to other mobility productivity initiatives.
What to Look for in a Mobile Device
Smartphones have become an essential tool for the vast majority of us, in both business and everyday life. And for some, or all of your team, a tablet or a 2in1 device could be a great alternative to a laptop with a datacard or dongle. When you're shopping for devices, there are so many makes and models, it can become overwhelm pretty fast. The best option for you will come down to the features and capabilities that matter to your organisation. For example, do you need a smartphone with a larger screen or advanced security options? Or does your tablet need extra storage or a durable design?
This is complex and a managed mobility partner is able to break this down for you. As a general rule of thumb; to narrow down your choices and find the best fit for your needs, it pays to be clear on your priorities before you start shopping. What are your "must haves" and what is a "nice to have" that you can live without. But the best piece of advice we can give is - organise a staff member to spend some time using a device before you commit to buy. It will quickly identify things you may not have thought about, like whether a mouse is a necessity or not.
Selecting the Right Platform
The operating system (OS) you choose is probably more important than the device itself. When you compare iOS, Android and Windows, you'll see that each has its strengths and weaknesses, so look for the OS that focuses on the features that matter most to you.
Apple's iOS is intuitive and easy to navigate for users of all abilities. There's a huge selection of apps, and in recent years their deep enterprise integration has improved dramatically. Because iOS is a closed system, your customisation options are limited, but this does mean it's less prone to security attacks. It's important to note that Apple devices are your only hardware option with iOS, and because they usually have a higher price tag, this can be an important factor if you're working with a limited budget.
Google's Android on the other hand, can be used with smartphones and tablets from most manufacturers, which is a definite plus. And now they're almost on par with Apple for apps so this is not as much of a distinguishing feature as it once was. Android is an open system that's highly customisable, and you can personalise your experience almost endlessly - but the downside is that it's also more susceptible to security threats.
Windows are still hitting their stride in the world of mobility and although they've had some setbacks, Windows 10 was well-received and, with Office365 integration, it is pretty compelling. Their app support is still quite limited, but the Microsoft Surface is a great alternative to the iPad Pro, offering users who are not 100% sold on the idea of tablet, but are looking for something smaller than a laptop, a nice compromise.
See our recent blog on choosing the right OS for a more detailed breakdown.
Bottom Line
Mobile devices can make your work that much easier – and they can bring significant improvements to your bottom line. So, take the time to examine your mobility needs carefully, and be sure to get a good handle on what current mobile technology has to offer. Try before you buy, or talk to a managed mobility service provider for advice - the extra effort to get it right will be well worth it.
Over to You
Have you recently selected the mobile technology for your company? We'd love you to share your tips.