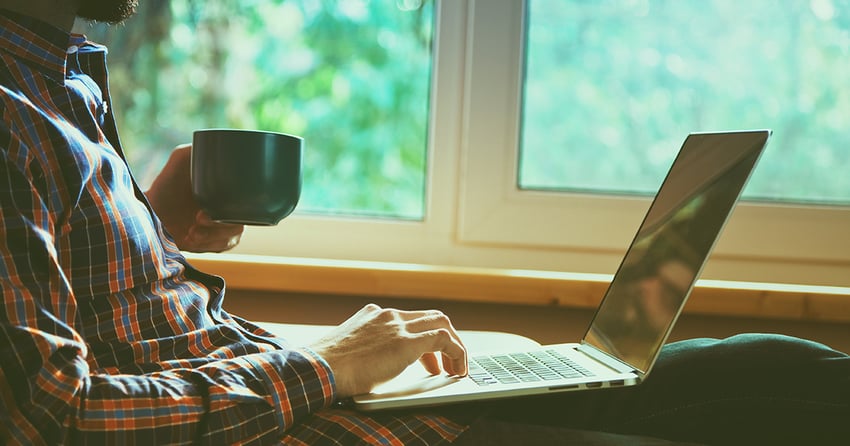 When choosing a device OS for your mobile eco-system, there's much to consider. From security and flexibility, to apps and price, it's a big investment and a lot rides on you making the right call.To find the best match you'll need a clear picture of the features your organisation values most, and a good understanding of the pros and cons of each OS.
Main factors to consider when choosing an OS for your mobile technology
Security
With the threat of cyber-attacks on mobile devices on the increase, Gartner says, "individuals are 62% more likely to click on phishing email on mobile," an OS with strong mobile security features is a must. The iOS operating system is less flexible than Android but the upside is that, up until now, it has been more secure. This is due in part to the closed-off ecosystem that only allows apps approved by Apple. Although this gives you less choice of devices, there's less risk of downloading malware from the Apple store, which is an advantage.
Gartner reports, "79% of malware is Android based" but there has recently been an increase in malware for iOS – so no matter what OS you choose, make sure you have security measures in place and your employees know how to avoid the risks.
Price
There can be a significant difference between prices on mobile devices, so it's worth shopping around. You'll also find that in general, the purchase price is higher on Apple devices. New iPhones are a sought-after luxury item, and the price certainly reflects that. And while the iOS system offers many benefits, a saving per device in a large fleet makes a significant difference to your budget. For example, if your fleet has 100 devices, and you save $200 per device, that's an overall saving of $20,000 - money that could be allocated to other areas, management of your mobile technology for instance. Samsung is offering highly innovative devices these days at a lower cost point, it's worth the time to compare.
Android's flexibility to run on almost any device, means you have more options when shopping for phones and tablets, so you can more easily find one to suit your budget and needs.
Warranty and Support
System uptime and employee access to information of utmost importance to you? Then warranty and support of your mobility devices should play heavily on your device choice. It's not only about having the repairs completed without fuss, but the timeliness of the repair to minimise downtime. You would consider this with server farms or cloud access, but what about your mobile devices that provide the greatest share of access to corporate information?
HP offer next day onsite support for their 2 in1 tablets – if knowing that any issues would be resolved fast and with minimal downtime is important to you, it could make HP Windows tablets a front runner for your organisation.
Interoperability
If your work environment is dominated by Microsoft desktop applications, having an OS that's compatible with your desktop environment is a big plus. The Windows Mobile operating system, designed by Microsoft as an extension to the desktop, can complement your office applications nicely. Of course, there are Microsoft apps for iOS, etc., but if you want true compatibility and seamless interoperability a Windows based mobile device could be the way to go for you.
App Choice
We have seen an explosion of mobile applications from just 100k apps in 2010 to 5.7million in 2016 with the Apple App Store alone reaching 140 billion downloads to date. So when it comes to apps, Apple have clearly had a jump on the competition and many new apps are released for iPhones and iPads before the Android and Windows versions are available, so keep that in mind if being current is a necessary feature.
Android apps are steadily building with 2.8M apps in the Google play store according to Statista, while the selection of Windows apps is still a fair way behind at 669k.
Staging
Our experience shows that staging and locking down of a device suits certain industries, Health being one of them. However, flexibility when preparing your devices for delivery to the end user is important and can save time and resources no matter what industry you are in.
Although all OS' provide for this, with Android, there's more flexibility to lock down screens, to change the look and feel of backgrounds with company logos, manage the app placement on the screen, and more, which makes life a lot easier during setup. If your organisation is looking for a simple, preconfigured, skin that prevents the use of most of a devices native applications, then Android would be a solid choice. We have seen some pretty unique offerings by Samsung to the Health market recently.
Resource Requirements for Support
As Apple devices are more locked down in their capabilities, this makes them easier to support in our experience. Android provides more flexibility and therefore more opportunity for users to get into trouble, and more support is needed. It also provides more opportunity for the device to be compromised.
The biggest tip here is; keep in mind that having too many device types with various levels of OS releases in your fleet is costly to support – so try and minimise this.
End User Preference
Last but by no means least, UX preference and ease of use must be carefully considered, as it has an impact on the talent you can attract. Gen Y and Z, place high regard on the tools that they will have access to in considering new roles. The business needs are important, but don't lose sight of the needs of the user too. Our experience shows that end users unlock a treasure trove of information on productivity improvements in the business, what works and what doesn't.
In Closing
Choosing an OS system that ticks all the boxes is a challenge, as each has its pros and cons. But when you're clear on your organisation's priorities and research the features of each OS, you're bound to find a good match. It's complex and a managed mobility service provider can provide the best advice but here is some high-level advice:
If you're concerned with prevalence of apps, security and ease of use, Apple may be your best bet.

If price and lockdown of the device are key factors, Android devices might be a better fit. Samsung offer some innovative solutions in this area.

If interoperability and device uptime is a key decision factor you should consider a Windows 10 device. An HP solution with next day onsite support could hit the spot.

If you're still not sure, it doesn't hurt to survey your end users. Find out what they are using, what they like and don't like, which apps are improving their productivity, etc., and start building your strategy from there.
Do you have doubts or feel confused about your choices? Get in touch with our team or post your question in the comments section below.