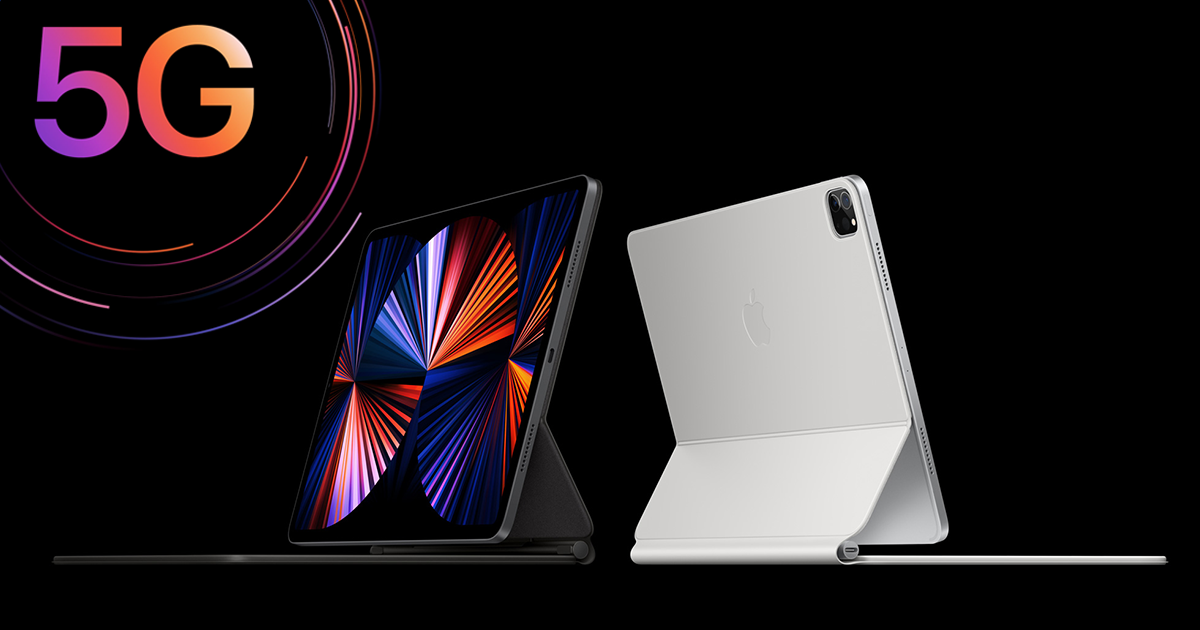 As Apple says, Buckle Up! On sale today is the latest 5G iPad Pro. The biggest upgrade to the iPad Pro since its inception. If your organisation is thinking about new technology investments, this device is worth considering given there's enough horsepower to future-proof it for at least a few generations.
With the powerful M1 chip, it's the fastest device of its kind, offering next level performance capabilities and custom-engineered technologies including the advanced image signal processor and unified memory architecture of the M1 chip.
The unified memory architecture of the M1 chip means the CPU, GPU, and other processor components don't need to copy data between one another and are able to access the same data pool. This brings notable speed and efficiency improvements – similar to the prior-generation dual-core MacBook Air, but at much lower power.
Delivering more engaging video calls
With video calls now very much part of every business workplace, using the new Apple iPad Pro promises to be a boon. A feature called Centre Stage makes it look like you've got your very own camera crew on tap no matter where you're calling from, making the experience of connecting more fluid and engaging.
Driving productivity and efficiency
Combined with the Magic Keyboard and Apple Pencil, the new generation iPad Pro is a handy work tool. With it, you can easily take notes, organise your thoughts, and mark up screenshots, email and more.
The latest release launches the choice of third-generation or fifth-generation models, ranging from AUD$1,449 to AUD$3,549.
Key Features of the latest 5G iPad Pro
Powerful Apple M1 chip for next-level performance and all-day battery life
5G models for blazing-fast speeds when you're away from Wi-Fi
12.9-inch Liquid Retina XDR display1 or 11-inch Liquid Retina display with ProMotion, True Tone, and P3 wide colour for HDR viewing and editing content
True depth camera system featuring Ultra-Wide camera with Centre Stage which keeps you in frame automatically during video calls
The Magic Keyboard will also be available for the new iPad Pro 11-inch and 12.9-inch and are $449 and $549 respectively
Compared to previous generations, the latest iPad Pro promises the ultimate iPad experience and phenomenal power:
50% faster CPU performance – accelerating the speed at which your tasks are completed
40% faster graphics performance – improving performance-intensive tasks
4x more bandwidth for wired connections – up to 40Gbps – providing super-fast data transmission between the network
5G models get blazing-fast speeds when you're away from Wi-Fi
M1 Chip
3.5x faster CPU performance
Up to 6x faster GPU performance
Up to 15x faster machine learning capabilities compared to the Intel chips used in prior-generation machines
12.9-inch Liquid Retina XDR Display


1,000,000:1 contrast ratio with the Liquid Retina XDR display
1,000 nits full screen brightness up to 1,600 nits peak brightness (HDR)
Powered by over 10,000 mini-LEDs
Pro Display XDR at full 6K resolution
imei Managed Services
Speak to imei today about ordering and provisioning a new fleet of the latest iPad Pro devices in time for the start of the new financial year.
Helping reduce complexity and delivering tailored mobility management, imei Managed Services equips and supports your teams while enabling business with tools to excel in the new digital and ultra-competitive marketplace. You'll realise better flexibility, productivity, and efficiency by joining forces with imei Managed Services.