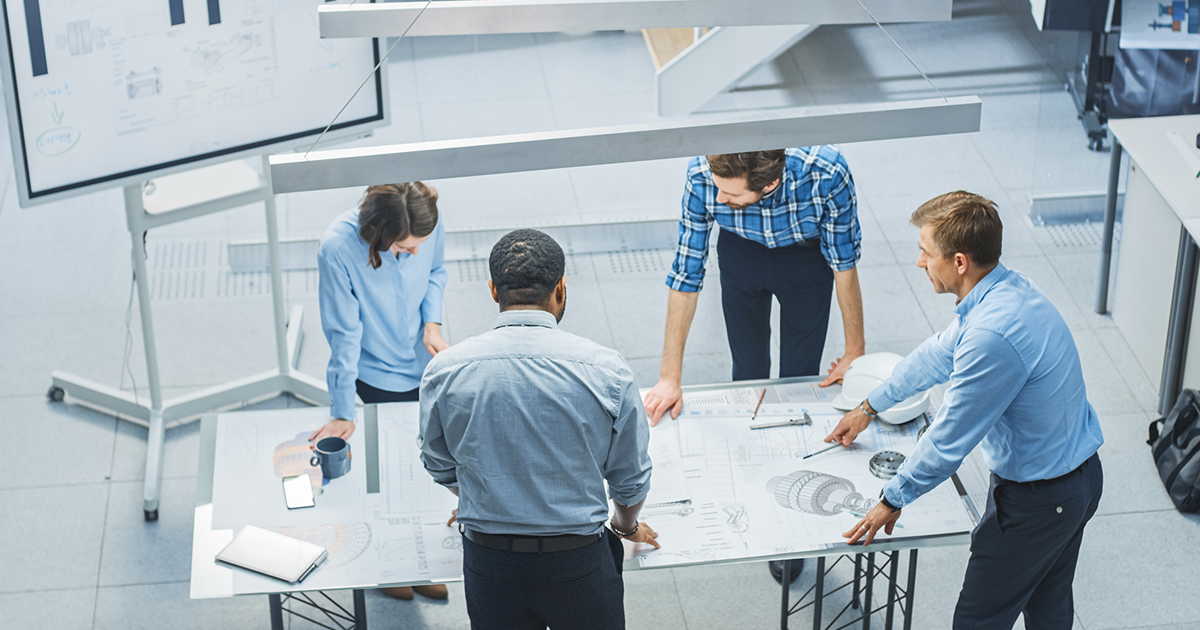 If the concepts of artificial intelligence and augmented reality still sound like science fiction to you, the dawning of the new decade will come with a huge wake-up call. Already, these and other new technology trends in business are being embraced by forward-thinking enterprises to transform business operations and drive competitive advantage.
Stay ahead of new technology trends in business
Of course, with the advent of 5G and constant unbroken access to a truly fast, reliable mobile internet connection across locations, many of these advanced technologies will quickly become a part of the mainstream business world. And in all likelihood, even if you're not planning to use them, your competitors probably are.
Read on for information on five new technology trends that are fast making their way to organisations like yours and have the potential to transform your business landscape:
1. Artificial Intelligence (AI)
3. Robotic Process Automation (RPA)
4. Virtual Reality (VR) and Augmented Reality (AR)
1. Artificial Intelligence (AI)
Artificial Intelligence, or AI, refers to computers systems built to mimic human intelligence and perform tasks such as recognition of images, speech or patterns and decision making.
Already widely used in consumer apps ­– including navigation apps, streaming services, and smartphone personal assistants – it's in the workplace and business environment that the value of AI truly shines. One of the most widespread applications of AI is to automate common, routine tasks which free up employees' time, including:
Responding to simple customer inquiries
Consolidating data and performing basic trend analysis
Optimizing sales forecasts and inventory levels
Enhancing predictive maintenance and reliability-centred maintenance processes
Monitoring productivity analytics and identifying areas for improvement
2. Machine Learning (ML)
With Machine Learning – which is a subset of AI – computers learn by discovering patterns and insights from data. ML applications are used for data analytics, data mining and pattern recognition.
This means Machine Learning has a vital role to play in helping maintain a competitive advantage by making and testing hypotheses using all available data to make more-informed business decisions.
3. Robotic Process Automation (RPA)
Robotic Process Automation is the use of software to automate business processes such as interpreting applications, processing transactions, and dealing with data. RPA automates repetitive tasks that people are still doing today ­– including the work of financial managers, insurance officers, and paralegals.
While RPA promises significant cost reduction and enhanced operational and business control, forward-thinking firms are using RPA for far more than just cost-cutting. In all areas of the business, RPA can be used to drive efficiencies, empower employees, boost speed to market and support business performance.
4. Virtual Reality (VR) and Augmented Reality (AR)
Virtual Reality immerses the user in an environment while Augment Reality enhances their environment. So, it should come as no surprise that both VR and AR have enormous potential in training, entertainment, education, marketing, and even rehabilitation after an injury.
In healthcare for example, VR headsets allow remote doctors to see as if they were looking through the eyes of a technician or doctor next to a patient. While surgeons can use VR technology for training or to practice difficult procedures.
5. Internet of Things (IoT)
As more and more devices get connected to the internet, sensors and software are combining to create, collect and share data and have enormous application in all industries.
In manufacturing, industrial IoT is allowing the entire value chain to be analysed and optimised. In retail, IoT is providing greater visibility across the fulfilment process, enabling retailers to track orders from the moment an order is placed until it reaches the customer's doorstep. Car manufacturers are leveraging the connectivity to establish long-term relationships with consumers by offering ancillary services like predictive maintenance and driving analytics.
Cybersecurity keeps pace with new technology trends in business
Of course, cybersecurity is evolving at the same pace as these new technology trends. That's in part because threats are constantly changing as hackers continue to find ways to find flaws in even the toughest security measures. Make sure your business keeps your cybersecurity measures completely up to date.
If you're interested in exploring these 5 new technology trends and want to update your cybersecurity defences, please get in touch with the team from imei.