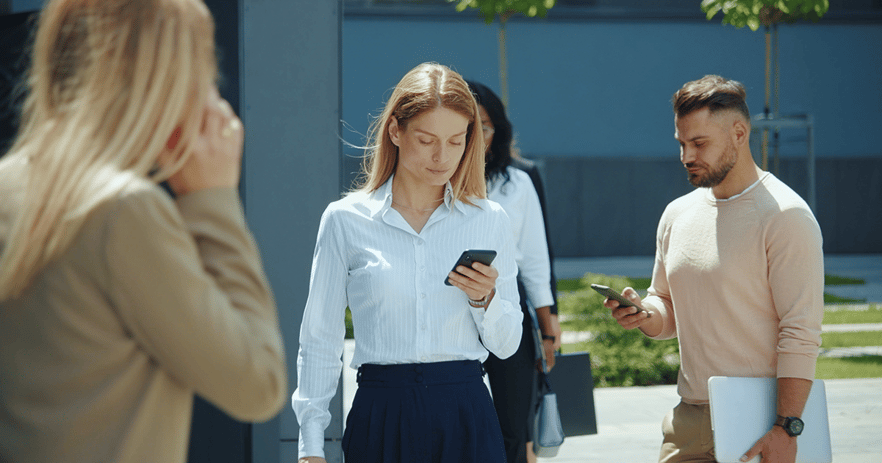 These days, enterprise mobility is a core part of almost every business.
If you want to get ahead of the competition, you need to understand, control and manage your mobile infrastructure effectively, and be ready to take advantage of new technology as it emerges.
Benefits of Enterprise Mobility Solutions
The benefits of enterprise mobility have matured since the introduction of the first iPhone in 2007. It has become less about the device and more about access to company resources, applications and productivity improvements through the mobilisation of business processes.
As mobility continues to drive improvements in customer engagement and role based employee productivity, you can expect that applications will play a greater role in competitive differentiation. As such, the number and type of mobile devices used in the workplace is growing and the task of managing them has become increasingly time-consuming and complex.
Managing Mobile Technology
If your IT support team are looking after this complex mobile eco-system, it's highly likely that they're well and truly stretched. At best, this means they're a bit behind schedule, at worst it means your mobile technology is not getting the attention it deserves and you're missing valuable opportunities.
It's no surprise then that more and more organisations are choosing to outsource their mobile technology management.
Here are 5 ways a managed solution can help you get the most from your mobile technology:
1. Improved Productivity and Efficiency
2. OS Compliance monitoring and enforcement
3. Effective Cost Management & Distribution
4. Threat Identification & Policy Enforcement
5. Free Up Your Time and Resources
1. Improved productivity and efficiency
When enterprise mobility is managed effectively, your entire business will benefit. Your sales reps on the road access real time stock levels on their tablet, and your management team can check emails, participate in video conferencing and run business applications from their smartphone at home or when travelling.
When you match the right devices with the right users, your mobile technology helps your team provide efficient service, better customer experiences and be productive no matter where they are.
2. OS compliance monitoring and enforcement
Regular updates are necessary to make sure your devices are all running on the latest version of their operating systems and apps. When they are, they'll operate at their peak and provide better protection against security threats.
It's a major challenge to keep up to date with the constant changes, coordinate and track updates, especially when you're dealing with a wide range of devices and multiple operating systems. But when you partner with a managed mobility service provider (MMSP), they'll take care of your policies, updates & enforcement of end users so you can cross this off your to-do list for good and free up more time for your IT team to work on other priorities.
3. Effective cost management & distribution
It's costly funding an internal team to manage your mobile technology, plus, it means investing a significant amount of time and resources to continually train and develop their knowledge of upgrades, changes and expense management. When you work with a MMSP your resourcing flexes as you grow and your end users will communicate with experienced and up to date mobility specialists. Therefore, you'll not only have detailed visibility into your mobility costs, you'll be able to correctly allocate cost centres, end users and address any overspend. Plus, you can be confident that your mobile technology brings maximum ROI to your organisation.
4. Threat identification & policy enforcement
Often mobile devices are not given the same level of protection against security threats as their desktop counterparts – but as the number and type of mobile devices in the workplace grows rapidly, so too does the risk of malware attacks on them. To protect your sensitive company data, you need to be aware of all the risks, and know the latest strategies to stop them. A managed mobility solution can include advanced security measures, tailored specifically to protect your private information – and because MMSPs have up-to-the-minute knowledge of the current and emerging threats, they'll make sure you've always got the highest level of protection.
5. Free up your time and resources
Many Australian businesses lack the expertise and resources to manage their mobile technology in-house, and are struggling to keep pace with the growing demands of their mobile eco-system. When you outsource your mobile technology management, you take the pressure off, which allows you and your team to focus on your core business objectives and frees up valuable internal resources.
A MMSP will take care of all your mobility needs and issues – from provisioning to decommissioning, and everything in between. They'll deliver a complete enterprise mobility management (EMM) service, or they can focus on smaller solutions such as mobile device management (MDM). You can tailor a solution to your organisation's needs, and be confident that your team are well-equipped and supported - and that you'll get maximum return on your mobile technology investment.
Manage your mobile technology
Having all the latest devices doesn't guarantee you the best results – to get the most out of your mobile technology it needs to be well-managed. A big part of this is having the time and expertise to get the right device in the right hands and provide ongoing training and support for users.
When you outsource your mobile technology management, a MMSP will make sure your organisation is maximising the benefits of enterprise mobility – both now and as new technology emerges. Your team will be equipped with the mobile tools they need to impress your clients with their efficiency, and to be more productive overall. Plus, you'll have confidence that your mobility is ready to take your business to the next level.
Should you outsource?
Are you considering outsourcing your enterprise mobility and want to know more? Our team are happy to provide advice and answer your questions – post in the comments below or contact us.
Has managed mobility changed the way you do business? We'd love to hear how.
Want to improve the efficiency and user experience of your IT Service Delivery? Knowing and understanding your users is integral to the process. We've had years of experience with this and have documented some of our top tips and success stories in our User Persona Profiles Whitepaper.