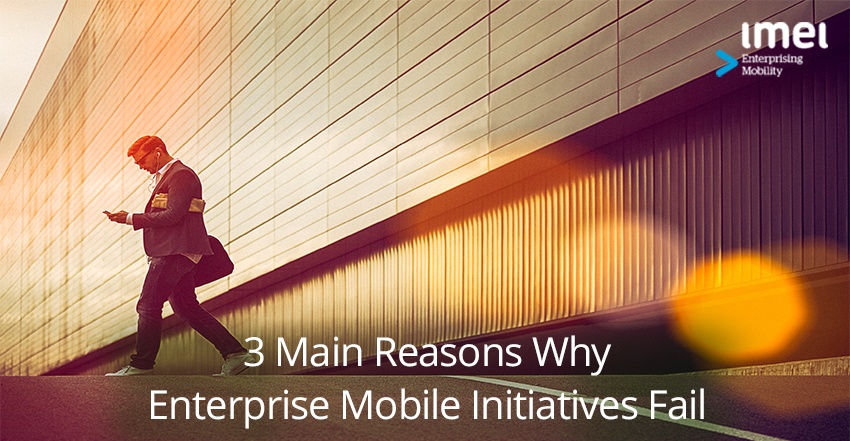 Enterprise mobility is about more than just equipping your employees with smartphones and tablets so they can work on the go.
For your business to be truly mobile you need a strategy and solution that will maximise the many benefits of mobility, help you get ahead of the competition and make life easier for everyone in your organisation
But it's no easy task to manage a growing mobile technology eco-system – it takes time, resources and know-how. If any of these elements are missing, your workforce productivity will fall flat. So how do you maximise the benefits of mobility and avoid the pitfalls?
Here, we discuss three reasons why an organisation's mobile initiatives fail – and share some tips and advice to help you avoid them.
Underestimating Your Mobility Needs
When putting together your mobility strategy, make sure you assess your organisation's needs completely and accurately. A common mistake is not engaging stakeholders from every possible user group during planning to identify the features that will be most useful to each of them. At a minimum, seek feedback from your IT team, HR department, Sales and Marketing, company executives, and end users in each sector. It's worth it.
Putting some extra effort in during planning will give you a much clearer picture of your mobility priorities. For example, from a management perspective, things like compliance, data loss prevention, workforce productivity, privacy standards, and ROI are important, while your IT department is looking for an enterprise-grade, flexible and secure solution. Your users have a different perspective again, and are more interested in device choice, BYOD compatibility, easy to use apps and reliable wireless access to company applications from anywhere.
A Strategy That Misses the Mark
As discussed above, mobility priorities will vary from department to department - so be sure to gather plenty of feedback and include your team's requests in your planning. A one-size fits all mobility solution is never the best option – a mobility management plan that is customised for the specific user groups (personas) within your organisation is a much more effective approach. It may take longer to get up and running, but you'll save yourself a lot of headaches down the track.
When you listen to your team's suggestions, and incorporate them into your mobility strategy, you'll see an increase in productivity and efficiency, which is a win for your customers and for your business. Microsoft recently reported that when mobility is executed correctly, "Each remote worker has been estimated to produce 240 extra hours of work per year." That's 6 weeks of additional productivity.
On the other hand, if your mobility strategy is rushed, and has been put together without input from your team, you'll invest a lot of time, effort and money into something that has little impact on the way you do business.
Not Getting the Help You Need
Enterprise mobility is growing at a rapid rate, and chances are, if your mobile technology eco-system is too, your IT department is feeling the strain. Enterprise mobility has plenty of upside, but it requires a significant investment in time to manage it – which means you can either divert resources from your business to handle it, or talk to a managed mobility service provider (MMSP) about an enterprise mobility management (EMM) solution.
A tailored EMM solution, covers everything from design and deployment, through to ongoing management and security. Starting with a thorough review of your mobility requirements, your MMSP will tailor a solution that incorporates the features you need to achieve your mobility goals. Your MMSP will get everyone connected, then deploy, integrate and manage your content and apps. A managed EMM solution will also give you the peace of mind that all devices in your Technology eco-system are compliant, have secure access and are protected from Cyber-attack.
In Closing
Mobility is now an integral part of how we do business – increasing productivity, improving efficiency and opening doors to new ways of communicating and collaborating. But to maximise the benefits that mobility offers, you need a strategy based on a clear understanding of how your organisation will use mobility and a solid system in place to manage your mobile technology eco-system. Because if you don't have the foundation and support in place, your mobile technology will underachieve as will your workforce productivity.
Over to You
Are you struggling to create, implement or manage your business mobility strategy? Get in touch – we're happy to provide expert advice.