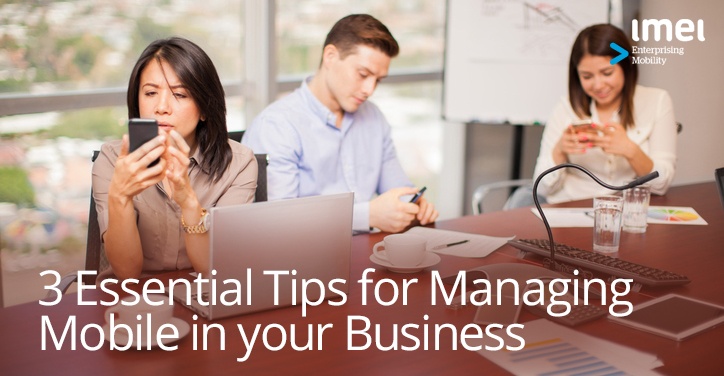 Gone are the days when our team was tied to the office, relying on filing cabinets and fax machines to get the job done.

Today, mobile devices allow us to work anytime, and from virtually anywhere. Mobility in the workplace brings plenty of benefits, but it also presents some challenges. Without the right systems in place, managing your mobile workforce is time consuming, and can potentially be a major security risk.The good news is, there are plenty of tools available to help you manage mobility in your business. So, if you want your mobile fleet to work efficiently, effectively, and keep your company data secure, read on for our top three mobility management tips.
Tip #1 –Know What's Going On
When you're managing a fleet of mobile devices, things can easily get out of hand. Knowing who has which device, and what they're doing with it, can be impossible to keep up with, especially when you're juggling an already hectic workload. That's why mobile device management (MDM) is gaining popularity as the first step to visibility and control. MDM gives you visibility over your entire fleet of mobile devices from a central point of contact, so you can see in an instant exactly what is going on.
For example, imagine if you have 100 mobiles and 50 tablets. MDM platforms allow you control the fleet and prevent unauthorised access to your sensitive corporate information by managing your usage and security settings. You can make sure everyone on your team is using their devices appropriately and in-line with your compliance policies and organise and keep track of your application delivery. Other handy functions include remote activation and deactivation of devices, management of network access control and authentication into your corporate infrastructure. MDM is managed through an easy-to-use dashboard to overview the fleet, which saves your IT team time and money, not to mention makes their job much easier!
Tip #2 –Audit Your Costs
The costs involved in purchasing and running your mobile devices can add up fast. It's important to not only track where your money is going, but also identify the areas where savings can be found. A Telecom Expense Management (TEM) solution makes easy work of this. It provides detailed information about the types of calls being made, analysis of mobile data usage, plus, lots of useful insights that help you set policies, profiles, investigations and reconciliations.
You'll get monthly spend reports based on the end user, business unit or organisation as a whole, with detailed breakdowns on how your mobile devices are being used. This allows you to compare your current plan with your actual use, to make sure you're only paying for services that you need. For cost transparency, your bill breakdowns can be sent to managers and end users, shifting the monitoring of services down to managers and away from IT, improving accountability for both your employees and company departments and can also help prevent unexpected "bill shock".
Tip #3 –Be App Smart
Apps are useful and fun, but if your employees install third party apps to the mobile device they are using for work, your company data may be vulnerable to attacks. Recently, hackers gained access to mobile device resources. This allowed them, for example, to take pictures and record sound on a company mobile device without detection. Imagine if this type of intrusion occurred on a senior executives phone or tablet and board meetings were listened to.
Thankfully, you can develop and enforce a policy that limits or bans the installation of non-business apps to your employee's mobile devices. You can also include mobile application management (MAM) as part of your mobility strategy. MAM allows you to select which third party apps users can install, whether it's a company-owned device or a bring-your-own option.
In Closing
When you have a well-defined mobile management strategy that centres around improved efficiency and user accountability, plus, strong security measures, you'll get the absolute most out of your mobile fleet. If you and your IT team are struggling to put a strategy together, you could consider outsourcing your mobile fleet management. This will free up your internal team to focus on their strengths, and give you the peace of mind that your mobile fleet is operating effectively and in safe hands.
Over to You
Have you got any tips on managing business mobility? We'd love you to share!
You can also download our free 8-point checklist "Managing Your Mobile Fleet" for more handy tips.