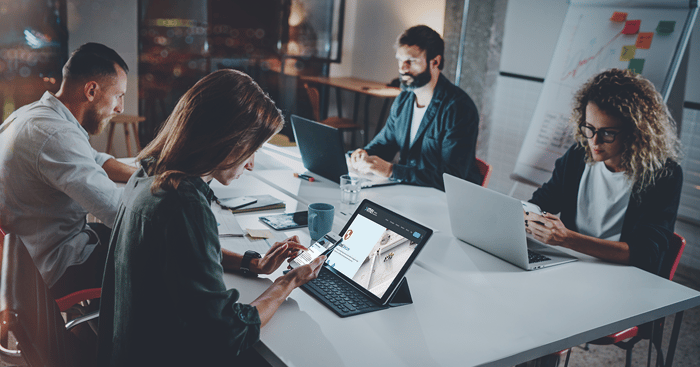 There are several tools and services available to companies engaging with Enterprise Mobility, but understanding how each can be utilised – let alone what is the best fit for your business, can be confusing.
Companies should be looking to incorporate tools that meet the needs of their business strategy, saving them time and money and improving how they engage with employees and customers. Three of the most common tools used in Enterprise Mobility are:
1. Mobile Device Management
Mobile Device Management, or MDM, provides the infrastructure that enables companies to monitor, manage, and secure their mobile fleet. This includes employee devices such as smartphones and tablets, as well as company-specific devices such as wireless security devices, modems and data dongles. It aims to enforce the compliant use of devices in line with your corporate mobile policy, with the three core principles being:
Security: To mitigate the risk of sensitive information getting into the wrong hands.
Compliance: To ensure devices are compliant with corporate mobile policy, managed through a single console.
Productivity: By improving activation and setup times across connected devices and role-based access to corporate data while on the move.
The main areas that MDM address include:
Remote device activation and deactivation, including device wiping in the event of a device being lost, stolen, or otherwise unusable.
Usage and security policy setting to enforce compliance and overall device management.
Device and over-the-air encryption enforcement.
Role-based policy enforcement of access into corporate resources
By providing the ability to change and configure devices remotely, MDM gives companies greater control and visibility over their mobile systems. It can also enforce security across the fleet even if the device fleet spans multiple service providers, hardware manufacturers and operating systems. It is the minimum requirement necessary to satisfy the new Notifiable Data Breach (NBD) Legislation.

2. Enterprise Mobility Management

Enterprise Mobility Management (EMM), refers to the set of processes and technology involved in managing mobile devices, including networks and services relating to a company's mobile ecosystem. EMM, with MDM as the foundation, enhances employee productivity through administering and supporting their use of corporate applications in the workplace. Its core components are:
Design: For requirement review, policy creation, end user profile design, and solution configuration and documentation.
Deploy: Enhances Lightweight Directory Access Protocol (LDAP) integration with app deployment and management, content management integration and processes around solution testing
Manage: Managing content, license capacity, ongoing configuration, hosted components, and apps

MDM and EMM maintain corporate security, by providing secure access, profile and policy control, auditing, and device compliance for employees and customers. It does not protect against purposeful network attacks. Enter Mobile Threat Detection and management. 

3. Mobile Threat Management
Mobile Threat Management (MTM) provides companies with the ability to not only detect and analyse threats (Mobile Threat Detection) but to take swift action against them and/or restore compromised devices to a compliant state. This includes the detection, and remediation, of malware, viruses, worms, bots, phishing, and a variety of other cyber threats. MTM can be utilised across a company's mobile fleet, taking different device manufacturers and operating systems into account to help protect and detect fraud and data breaches occurring within their mobile ecosystem. MTM services offer defence tools that provide:
Vulnerability management
Behavioural profiling
Anomaly detection and alert
Intrusion prevention
Phishing attack detection
…as well as other security technologies to prevent and protect against breaches.
Protecting against cyber attacks is of paramount importance for companies in the digital age. The cost of a data breach has climbed significantly, globally in 2022 reached $4.35million according to an IBM study funded and conducted by the Ponemon Institute.
Mobile Threat Management provides companies with the ability to improve their enterprise security over and above the security offered by MDM platforms and EMM capability.

imei
If you are unsure about how MDM, EMM, and MTM can protect and enhance your business, give the team at imei a call today. We are leaders in enabling mobility transformation for the enterprise.