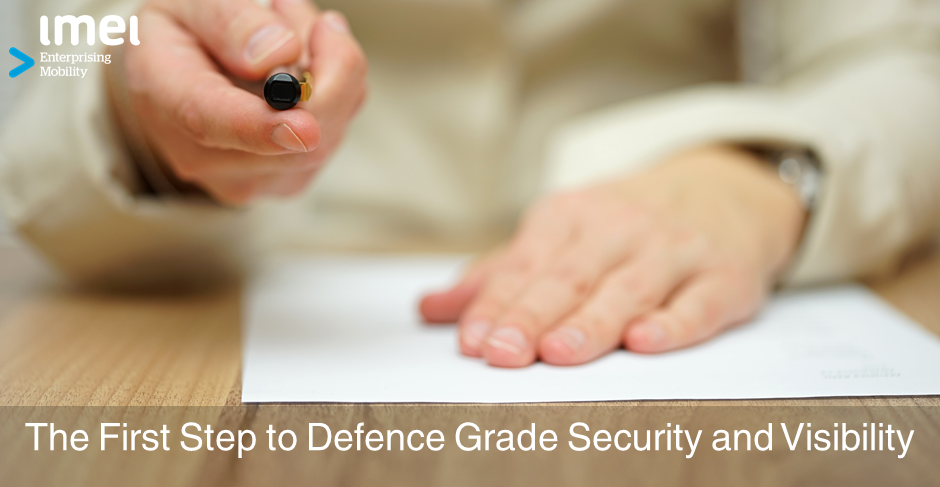 In our "3 Essential Tips for Managing Mobile in your Business", we outlined 3 key areas you need to gain control of to be effectively managing mobility. Our tips were: Know what's going on, audit your costs and be App smart. In fact, in our experience of managing big and small enterprise, these contribute to some of the biggest hidden mobility costs/risks within your business.
It can seem impossible to keep up with the growth of mobility internally, especially when you're juggling an already hectic workload. So how do you ensure you have the right users with the right device, the right OS, the right apps, the right carrier plans, the right access and all with defence grade security for your workforce?
There are multiple steps to get you to defence grade security and visibility. What do we mean by defence grade? That all the safety measures, provided for the use of a smart device, meet the standards set for Defence, and other Federal government agencies (ASD information security, FIPS 140-2, or ISO 27001 for example). It is complex, so where do you begin? Our advice is a comprehensive audit of what you have today.
That first step is to accurately identify users and correctly attribute devices and carrier plans to them. Almost seems inconsequential right, but in our experience companies with as little as 50 employees will have begun to lose track of who has what device and on what carrier plan. This poses all kinds of risks; security, cost, etc. In fact, in a recent audit we conducted on a customer with 800 services, we found 25% were unused in the last 6 months, which is not uncommon. That has a potential savings of $96,000 annually on a $40 plan. Also, where are those services/devices? How are they being stored? Who has access to them?
Identify Base Users of Mobile Technology
An updated list from the HR team and the most up-to-date data from the IT team will allow you to build up an initial view of mobile users & technology distributed throughout the business. Ensure that you develop a single source of truth for the data and a person responsible for its' accuracy if you haven't done this already. This will be particularly valuable as you continue to grow.
Accurate Identity Management
Fully Identifying and auditing services, the devices and the user responsible for them, will require multiple data sources. You will need the carrier bill file, the HR data base, the asset register and a process for combining these sources into an accurate view of who has what. This can be done through an end user interview, survey, SMS confirmations, etc. The important thing here is to audit the quality of the available data. You can't have defence grade security if you don't first have complete visibility of your mobile technology, the users responsible for using it and the unused services that leave you exposed.
Close security loopholes
Through a process of elimination, you will determine the unused services in the business. Once you have a complete picture of all users, devices and services, the unused services become clear. You then need to follow a process to disconnect those services, realise the savings from the exercise and close any exposure to your corporate network through unaccounted for services and devices.
Bottom Line
There are multiple steps to full security and visibility. This is the first step, ensuring you have a complete and accurate view of your mobile users, their devices and carrier plans. The next steps involve using role based workforce profiles and correctly allocating hardware, carrier plans, applications and network access based on the role's requirements with an EMM platform that provides the security specification you are looking for. In the process you will be developing policy, compliance rules and education for your workforce. This will enable you to improve employee experience whilst maintaining the ultimate in security. More on that later.
Over to You
Do you have questions about your mobile technology strategy and how to optimise & secure mobility within your business? Would you like to know more about achieving defence grade security? We can help and would love to hear from you!
You can also download our free 8-point checklist "Managing Your Mobile Fleet" for more handy tips on getting the most from your business' mobile technology.