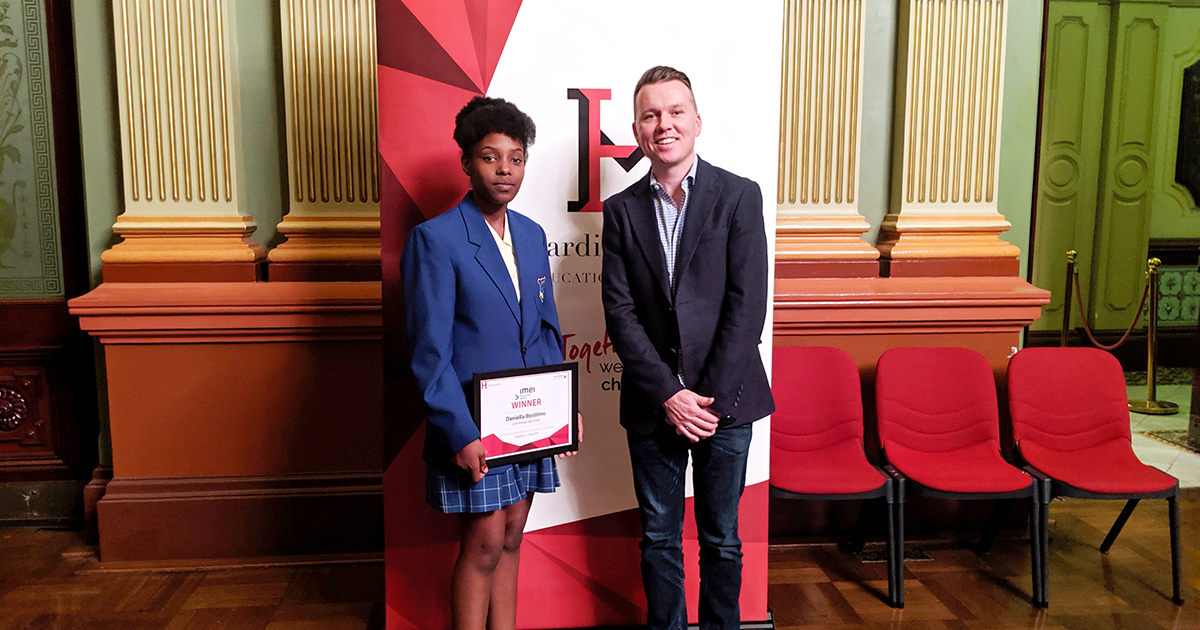 As you may know, one of imei's major CSR initiatives involves supporting the Harding Miller Education Foundation. This incredibly worthy cause, which was established by Kim Harding and Irene Miller, provides scholarships to Australian girls who have high academic potential but are deemed as disadvantaged. These scholarships have led to a shift in the way these students view themselves and their prospects for the future.
In mid-May, I was delighted to represent imei and attend the annual Public Education Foundation's Proudly Public Awards ceremony at Sydney Town Hall. At this year's event, more than 200 students received scholarships and awards from a variety of foundations, 73 of whom were recipients of scholarships from the Harding Miller Education Foundation.
Harding Miller Education Foundation scholarship recipient
During the evening, I had to the opportunity to meet one of our scholarship recipients Daniella from Coffs Harbour, and formally present her with our scholarship. As we mentioned in a previous post, Daniella, who grew up in Kenya and Rwanda, first came to Australia in 2017, having had little in the way of formal education. Since coming here, she's made up a lot of lost ground in the safe learning environments that public schools in Australia provide.
On her arrival, she immersed herself in intensive English classes before entering mainstream schooling. She has since earned a place in the top English enrichment class because her teachers recognised her great potential. She's also proving to be an excellent student in maths and science classes.
After high school, Daniella has firmly set her sights on going to medical school. We trust our sponsorship through the Harding Miller Education Foundation, helps her get there.
Help-desk support
Another way we support the Harding Miller Education Foundation is by donating our time and experience to deliver help-desk support services. At the event, I also had the opportunity to meet some of our peers who provide vital services such as remote tutoring to the students. I'm pleased to say they all spoke highly of their experience with imei, as we help ensure the girls can make the most out of their equipment and quickly remediate connectivity and technology issues.