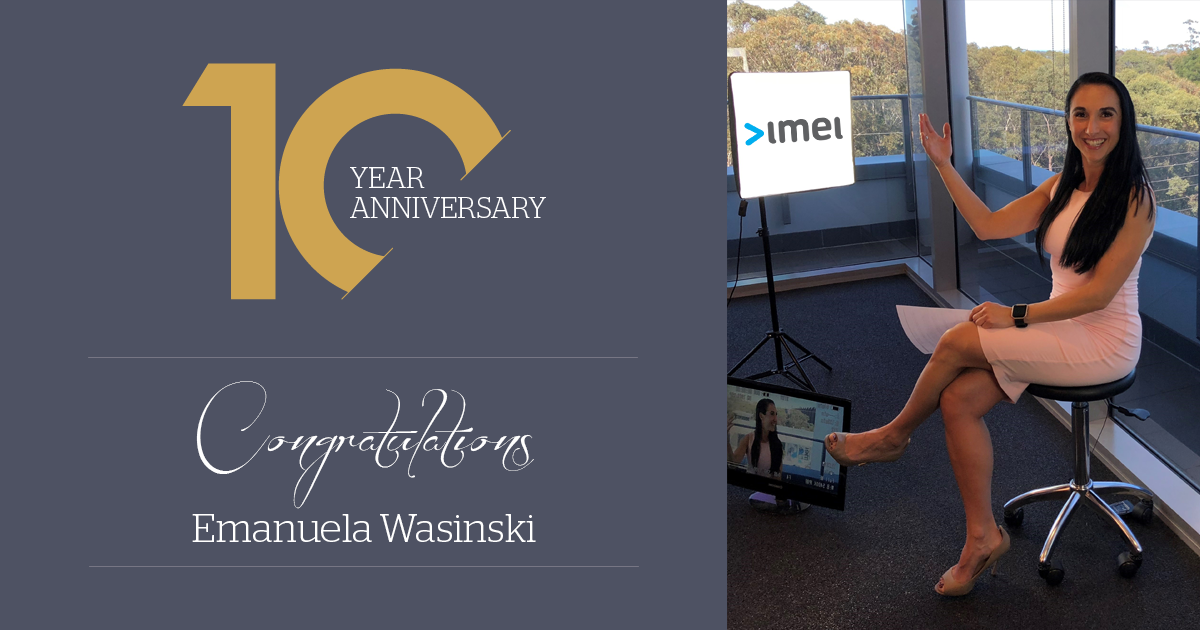 Since joining imei 10 years ago, Emanuela Wasinski, Head of Talent and Executive Services at imei has made it her mission to set imei apart with a dynamic workplace culture. To achieve this aim, she has keenly nurtured a harmonious and friendly workplace environment where continuous learning is key.
Focusing on professional development
By placing a high priority on providing extensive learning and training opportunities, Emanuela encourages the team at imei to continuously upskill. This gives everyone at the company opportunities to acquire new skills and knowledge, helping them grow and remain ready for new opportunities as they come along. The many learning and training programs that imei supports include PMO, PRINCE2 certification, and other ongoing professional development courses.
Another important part of imei's winning workplace culture is a commitment to equality, diversity, and inclusion. In her time at imei, Emanuela has supported a diverse workplace with a multigenerational workforce coming from many different backgrounds which also helps the company attract the next generation of talent.
Transparency and communication are also central tenets of imei's workplace culture. Monthly staff lunches have become something of an institution and a permanent fixture on the calendar to achieve this, where team members share updates and success stories while the company buys everyone lunch. Even continuing during lockdown thanks to company-funded Uber Eats vouchers.
Supporting imei's team of 70 associates
Personifying imei's culture of continuous learning and promoting from within, Emanuela has held multiple positions since joining in 2011. These include Customer Service & Contact Centre Manager, Head of Professional Services & Project Management and Operations Manager, before serving as Head of Talent & Executive Services since 2015.
In this role, Emanuela is responsible for attracting and recruiting the best talent in the market and once appointed ensuring new starters are smoothly onboarded. Onboarding includes learning about imei's client-driven focus as well as the range of professional development and upskilling opportunities available to them. Emanuela orchestrates inductions to focus on imei's core values and operating principles to see how the whole business works, together with the role specific knowledge required for each individual to be successful in their new role. From the very outset, employees are encouraged to be curious about other departments and work towards future development goals.
Key to imei's ongoing success and growth, Emanuela ensures employee KPIs are aligned to the company's business strategy and measures productivity and employee success in achieving these goals. She has also been instrumental in measuring imei's client-driven ethos through NPS – the Net Promoter Score. Under her guidance, imei's world-class customer satisfaction rating – an NPS over +80 – has been achieved and maintained.
Resilient and dynamic workplace
Reflecting on her 10 years at imei, Emanuela has been part of vast changes in the workplace.
We have enabled a resilient workforce and created a dynamic workplace with a strong recognition program and peer-to-peer awards. As a modern business, we support an incredibly diverse team, offer an enviable work-life balance, and encourage our people to achieve their best and celebrate each other's success, while providing every opportunity for personal growth and development. With such amazing opportunities for growth and commitment to promoting from within, my 10-year tenure attests to this philosophy in creating high levels of employee satisfaction that supports the success of the company."
As a final word on imei's workplace culture, our newest starter Suzane Haifa recently told us,
imei does what it says it's going to do. Even though I started during lockdown, Emanuela took me under her wing and provided great support with meetings, calls, and check-ins. I had never experienced this kind of warm and supportive welcome in any other company."
>If you're thinking of a career move and like the sound of imei's culture and what sets us apart, why not explore careers page or drop us your resume.