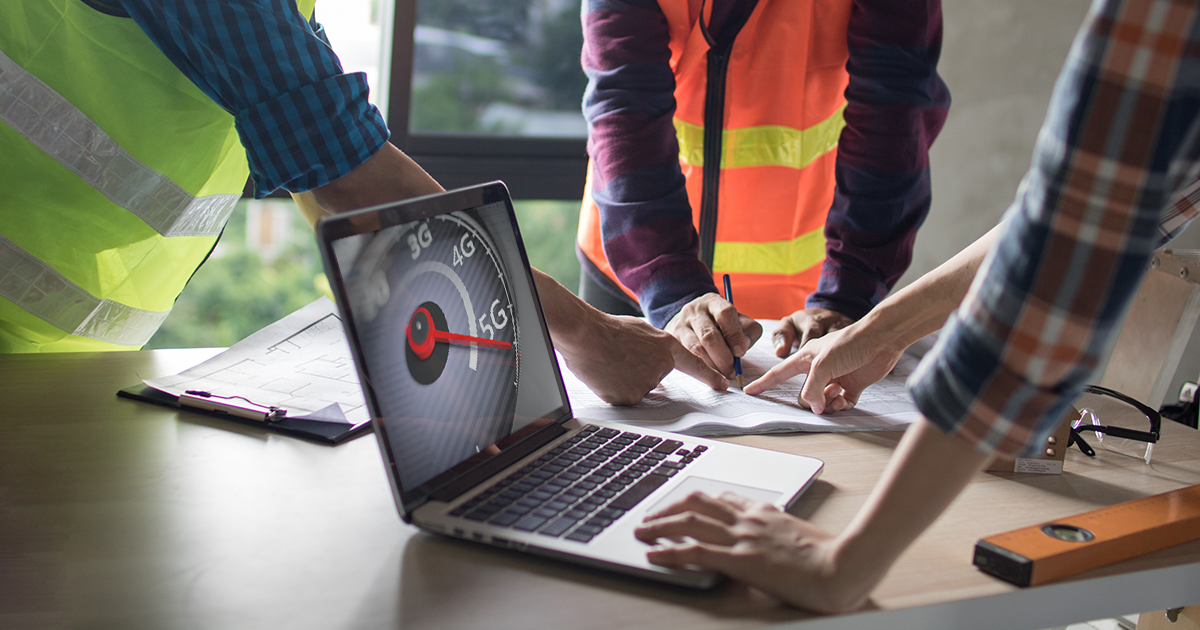 As the Australian Government hands out $20 million in grants to support various projects that demonstrate 5G's capability and benefits across a range of industry sectors and locations, our offering of a superfast 5G network in just three days is really hitting the mark with Australian businesses. While it's a godsend for organisations with branches poorly served by dependable connectivity, the service is also hitting home runs for companies needing fast and reliable wireless connectivity despite being well served by wired internet services.
Construction sites are constantly changing
For example, working on large construction projects these days requires a strong and reliable internet connection. Moving away from pencil and paper, project managers rely on digital tools and apps and use augmented reality software for site walk-throughs and building tours. As wired broadband is not a great option for building sites as it takes considerable time to deploy and decommission, 5G offers a new world of possibilities.
Using 5G to improve operational efficiency and stay ahead of the competition, construction companies are seizing the opportunity to set up high-speed wireless connectivity on their sites for a specified timeframe even within the city here in Sydney. While there are various other possibilities for their network set up, they tell us the imei offering is ideal for their needs. That's because we set it up quickly in just three days and they can take it away with them when they decommission the site and move to another location.
Using our 5G offering allows customers to take advantage of around 10-times the download speed and 20-times the upload speed experienced with 4G. A recent test conducted here in Sydney clocked 319.78 megabits per second (Mbps) download and 49.78 Mbps upload.
Monitoring construction quality
As well as taking advantage of 5G for project management tools and apps, there's a huge opportunity to embed 5G enabled IoT sensors in new builds to monitor building quality during construction. This will help to mitigate risk and potentially identify issues or even structural faults before they become more problematic.
In addition, 5G also allows for real-time streaming of the construction site to stakeholders and colleagues in head office. With 5G technologies, companies can improve productivity and safety standards on building sites, while enabling workers to use video to collaborate on and resolve complex problems at the site.
imei delivers the 5G offering in just three days using the Cradlepoint 5G modem/router. A global leader in cloud-delivered LTE and 5G wireless network edge solutions, Cradlepoint adapters add enterprise-class 5G connectivity into an existing SD-WAN infrastructure, appearing as another WAN link.
Planning your move to 5G
If you're looking to transform your operations and maximise the value of 5G in your business, imei can help.
imei is an accredited Telstra 5G Partner, offering professional and managed services to assist in designing and maintaining secure 5G internet connectivity using Cradlepoint devices.